After 20 years, we have expanded into publishing. The world of writing has evolved and the digital reality of the twenty-first century has created the perfect storm for us.  We expect many titles to be available in the coming future. Subscribe to stay informed!
BARRY'S DEAL (Launching November 9, 2017)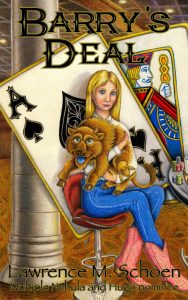 Fans of the Amazing Conroy will be delighted to learn that author Lawrence M. Schoen has a new installment of the Conroyverse that they won't want to miss.  Angela, the erst-while heroine of the 2014 Nebula nominated novella BARRY'S TALE has grown up — and so have her problems. At a casino hotel on Triton, the Amazing Conroy hopes to bid on an illegal and priceless bottle of stonefish liqueur. LeftJohn Mocker just wants to catch whoever has cheated the house out of ten mil. But the cheater is the source of the alien booze, a young woman of incredible power Conroy once saved. And did we mention there's a dirty atomic bomb…
SHADOW OF THE PHADES (Coming in Spring, 2018)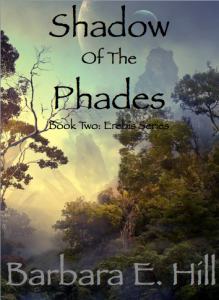 We are pleased to announce that in early 2018 we will be releasing the long-awaited sequel to SONG OF THE LAMKEE.  Book Two of the Erebis series returns readers to their favorite characters and worlds of forgotten Technology and the sentient alien lamkee.  In SHADOW OF THE PHADES, Talin has triumphed over his half-mad sister to save his home world from catastrophic disaster and now rules as Principle. But when sabotage strikes and Technology begins to fail, thousands of lives on Aeolus and Gaea are lost. In the flames of fear a new foe is born: the Phades…
CALENDRICAL REGRESSION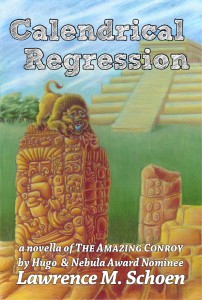 (2014 Nebula Nominee)

We are proud to present the newest installment in the Amazing Conroy series from Campbell, Hugo, and three-time Nebula Award Nominee, Lawrence M. Schoen.  Reggie and Conroy are at it again – you won't want to miss this!  Now available in print and ebook.
THE FLESH SUTRA
This is a deliciously macabe horror novel set in Fin de siècle Boston by author Tim W. Burke.  "Read, and prepare for beautiful nightmares — Alasdair Stuart."  Available in print and ebook at Amazon – click on the book cover to purchase your copy today.  Don't miss this Stoker Award semi-finalist!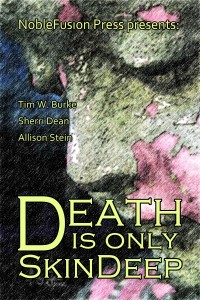 DEATH IS ONLY SKIN DEEP
Our first showcase of Horror, which includes the award-winning story "Fresh Sausage and Biscuits."  Tim W. Burke, Sherri Dean and Allison Stein have served up Victorian era classics with style and skill that only professionals can deliver.  Short but sweet, these three short stories will leave you wanting a full course from each of their authors. Check out their authors' pages here to find more of their work and learn where they will be next.  Available as an eBook at Amazon – click on the book cover to purchase your copy today.
SONG OF THE LAMKEE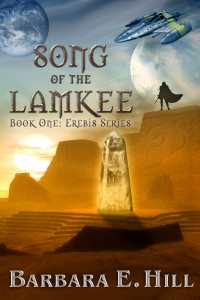 March 2013 saw our first full length book release:  a science-fiction novel by Barbara E. Hill.  It is Book One in the Erebis series and is now available in print and ebook format.  Available in print and ebook at Amazon – click on the book cover to purchase your copy today.